The word 'soldering' stems from solidare (to attach, to interconnect) and it is the perfect metaphor for how a company active in soldering links up with the VISTA College active in educating young professionals. 'In these trying Corona times we support the VISTA College,' says PIEK's Managing Director Ben Walls. With enough warmth the best connections are made. The Dutch word piek stands for 'top performance' as well as 'pinnacle', and it not only refers to PIEK's standing in its own market but also for the gesture that it has made to VISTA College with the help of JBC via PIEK International.
What the cooperation can do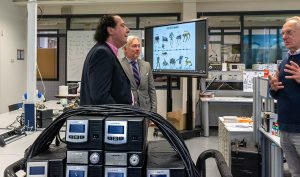 VISTA College, provider of technical education in Southern Limburg, was recently given a wonderful present by PIEK. For a sector in which the pace of developments is breathtaking, keeping knowledge and equipment up-to-date is a real challenge. VISTA, formerly known as
Leeuwenborgh en Arcus, is therefore very glad that organisations such as PIEK International play a supporting role in vocational education.
PIEK is the biggest internationally active educational centre for the electronic interconnect industry. Companies such as Bosch and Siemens but also Israeli and Pakistani army specialists are being trained by PIEK in the field of soldering techniques. At one time also VISTA teacher and team leader Bas Frijns was trained by PIEK. During the ceremony at which the gift was presented Bas proudly showed Ben Walls the benefits of VISTA's cooperation with companies. 'We have the latest BMWs and Minis here. Besides, we get components and documentation that companies are willing to share out as educational materials, related to things such as high-voltage systems. The JBC soldering systems that we are now getting through PIEK are a valuable addition to our toolkit, both in the automotive department and in the healthcare department.'
Electronics and the world of PIEK
Any electronics that you encounter, regardless of whether this is in TVs, in mobile phones or even in aeroplanes and satellites, are the materials for PIEK's core business: the education and certification of thousands of electronics specialists every year. They are not only specialists but also trainers who go on to train their own colleagues. And PIEK does more. It not only certifies professionals to IPC standards, but it also does consultancy work, gives second opinions and does audits, etc. In Europe PIEK has been the biggest educational institute in the electronics interconnect industry for over 55 years.
The JBC soldering stations
Every three years the JBC soldering stations needed for this high-end training is replaced. Supplier JBC that supports and sponsors PIEK with them does so on the condition that the equipment is made available to schools after these three years. VISTA teacher Pascal Gielen of the health care technician course is very glad that this happens: 'This is top-notch equipment. One month ago this was used to train the top specialists, and now my students can go and work with it.'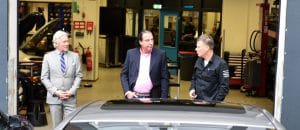 Internships
PIEK not only provides equipment but also internships. This used to be for tertiary education only, but seeing the levels of VISTA students now also vocational education students are offered internships. PIEK also regularly places vacancies for trainers, who are subsequently given work at home and abroad.
About PIEK
Courses are in English, German, Dutch and French. PIEK has all IPC licences. Tailor-made work is the standard at PIEK, also to tackle e.g. static electricity problems in companies. See piektraining.com/ for more.
About VISTA College
VISTA College is a new name in Southern Limburg, but certainly not a newcomer. This well-established vocational education institute grew from a merger between Arcus College and ROC Leeuwenborgh in 2019. It is future-ready to serve the region with a wide and up-to-date range of study programmes powered by cooperation with business. 'Developing the Limburg labour force for tomorrow' is its mission.
About JBC
JBC offers complete solutions in the field of soldering. Customers choose for JBC products, because they also allow for lower-temperature soldering and have advanced heating systems. The soldering tip reheats very quickly and lasts five times longer than others. JBC products boost productivity. More than 400 different cartridge forms are available. Of course JBC products have an ergonomic design and have a modular structure. In addition, the products have a user-friendly menu structure and communicate with PCs without any problems. Finally, JBC's reputation for constant innovation ensures that customers always get state-of-the-art equipment.